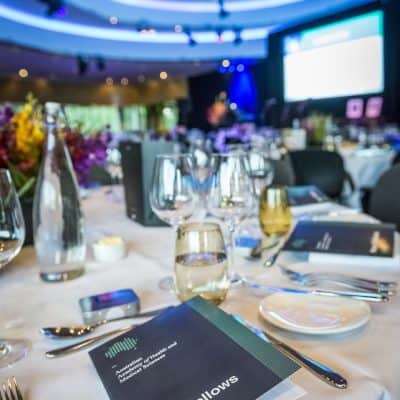 AAHMS (Australian Academy of Health and Medical Sciences) is the impartial, authoritative, cross-sector voice of health and medical science in Australia. They are an independent, interdisciplinary body of 357 Fellows (soon to be 399) – elected by their peers for their distinguished achievements and exceptional contributions to health and medical science in Australia. Collectively, they are a representative and independent voice, who engage with the community, industry and governments. The Academy is uniquely positioned to convene cross-sector stakeholders from across Australia to address the most pressing health challenges facing society.
AAHMS was formalised in 2013 as a result of a gap in the sector for Health and Medical Sciences. At the time four Academy's existed; Science, Engineering & Technology, Social Science and Humanities but there was no specific Academy for Health and Medical Sciences. So AAHMS was formally established in 2014 with Professor Ian Frazer as President to provide an impartial and authoritative voice for healthcare and medical science practice, to drive policy issues forwards and to provide leadership, inspiration and support to the next generation of budding medical science leaders. AAHMS is governed by an elected Board and Council.
The Academy began with 15 fellows and today has 357 with another 42 being formally welcomed at this year's Annual General and Scientific Meeting. Becoming a Fellow is a competitive process which can take up to 12 months. Nominations are made through recommendations and peer review and candidates must meet a robust criterion which includes making significant contributions to research. The Academy strives to maintain a Fellowship base made up of a diverse range of expertise and disciplines. Of the 42 new Fellows joining the Academy, 19 are female and 2 are corresponding Fellows from overseas.
Catherine Luckin is the current CEO of AAHMS and joined the Academy in 2018 when the Brisbane office was set up. Catherine has a decade of experience supporting research and innovation, particularly in the health and medical sciences – through roles in policy, public affairs, strategy and international relations. Until December 2016, she was Head of International at the Academy of Medical Sciences (AMS), the UK's National Academy for health and medical research. She led a team of staff to deliver initiatives designed to respond to global health challenges, influence policy and promote international mobility, connections and capacity building. Catherine as the first CEO that AAHMS has had leads a dedicated Secretariat team, manages Governance and policy issues and drives forward the Academy's strategic objectives.
This year's 5th General and Scientific Annual Meeting will be held 9 – 11 October in Perth. The Academy has 5 state branches covering all the states and territories and this event is a great opportunity to brings all of the Fellows together. The theme of the meeting this year is 'Infectious diseases: threats old and new'. It has been 100 years since the Spanish Flu arrived in Australia and from here, the meeting will consider the national and global prospects for tackling current and emerging threats – known and unknown. Questions to be explored include:
What are the prospects for eliminating infectious diseases?
How will the world tackle the next pandemic – 'Disease X'?
The meeting will also celebrate Professor Ian Frazer's Presidency and welcome incoming President Professor Ingrid Scheffer. Professor Scheffer is an Australian paediatric neurologist and senior research fellow at the Florey Institute of Neuroscience and Mental Health. She has made several major advances in the field of epilepsy research and is credited with finding the first gene implicated in epilepsy. Prof Ian Frazer will maintain his position on the AAHMS Board and will continue to remain heavily involved in the Academy.
Bellberry is delighted to continue to support the Academy and will again be sponsoring this year's General and Scientific Annual Meeting.