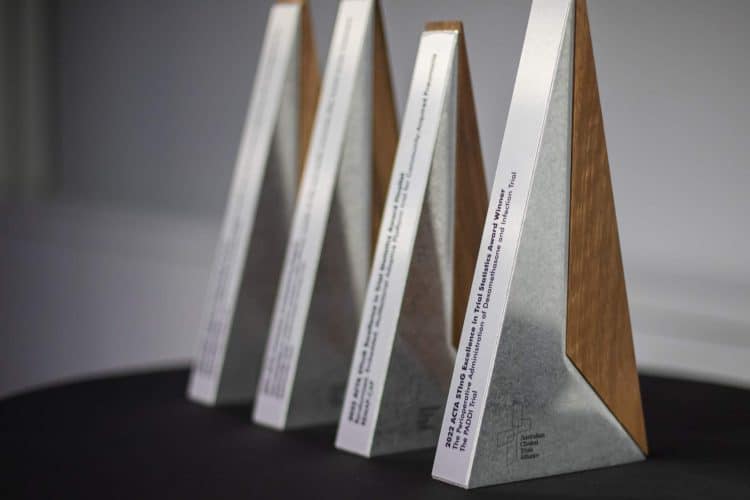 From a national pool of exceptional collaborative, multicentre, investigator-driven, and impactful trial nominations, four major awards were presented on Friday 20 May for trials demonstrating significant and positive impacts for patients.
The ACTA Clinical Trials National Tribute and Awards were established in 2016 to highlight the outstanding Australian achievements that advance clinical practice and save or improve the lives of patients every year.
The 2022 ACTA award winners were:
Winner – ACTA Trial of the Year Award
REMAP-CAP: Randomised, Embedded, Multifactorial Adaptive Platform trial for Community-Acquired Pneumonia This trial employed a novel design to simultaneously evaluate potential treatments, and efficiently and rapidly generate evidence, which had a significant impact on the care of critical patients during the COVID-19 pandemic.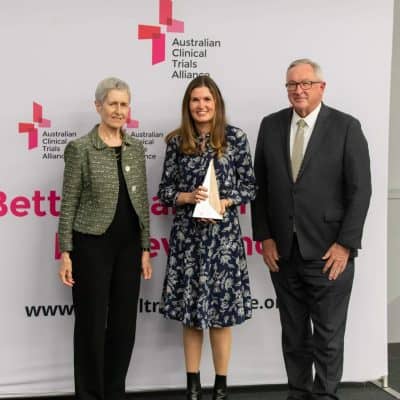 Other award winners are as follows:
Winner – ACTA STInG Excellence in Trial Statistics Award
The PADDI Trial: The Perioperative Administration of Dexamethasone and Infection – The PADDI Trial This trial presented that dexamethasone can be safely administered to patients to prevent nausea and vomiting when undergoing surgery, without concern about wound infections.
Winner – ACTA Consumer Involvement Award
EMPOWER-SMS: Text messages to improve women's self-efficacy, quality of life and health outcomes after breast cancer treatment: EMPOWER-SMS randomised clinical trial This trial evaluated the reach and usefulness of a lifestyle-focused text message intervention to support women's mental and physical health after breast cancer treatment.
Winner – ACTA Industry Partnership Award
Better Knee, Better Me: Effectiveness of two scalable health care interventions supporting self-management for knee osteoarthritis – a randomized controlled trial This partnership, between the University of Melbourne and Medibank, saw the design and evaluation of two new programs for people with knee osteoarthritis, which were highly rated by participants and health professionals for their effectiveness, simplicity and convenience.
ACTA CEO, Dr Stewart Hay shared: "The caliber and breadth of our 2022 award winners and nominees illustrates the expertise, experience and enthusiasm for conducting clinical trials in Australia. As an industry body, ACTA is committed to supporting and advocating for trial teams to ensure they can continue their great work in providing the community with access to life-changing trials. These awards provide yet another reminder why our work is so important for the sector and patient care."
Visit the ACTA website for full details of this year's winners.