The ARCS conference earlier this month was a resounding success. BellBerry representatives Alison Barr (Quality Manager), Chloe Shard (Team Leader), Reuben Jacobs (Manager for Business and Strategic Projects) and Jerneen Williams (EPCT Manager) all attended and 'manned' the BellBerry booth. They were delighted to meet so many new faces and talk about our HRECs and also catch up with so many familiar faces!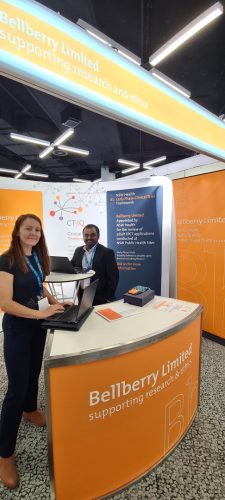 CT:IQ also attended the conference and CT:IQ's Programme Director, Leanne Weekes said "It was a wonderful opportunity to share information about our projects to everyone who stopped by the CT:IQ booth". Leanne was part of a panel session discussing, 'How eConsent is being used in Australia to support clinical trials'.
The ARCS conference was particularly special for Bellberry this year as our CEO Kylie Sproston was awarded the 2021 ARCS MTP Sector Awards Innovation award! Many congratulations to Kylie and the whole BellBerry team on this wonderful achievement.