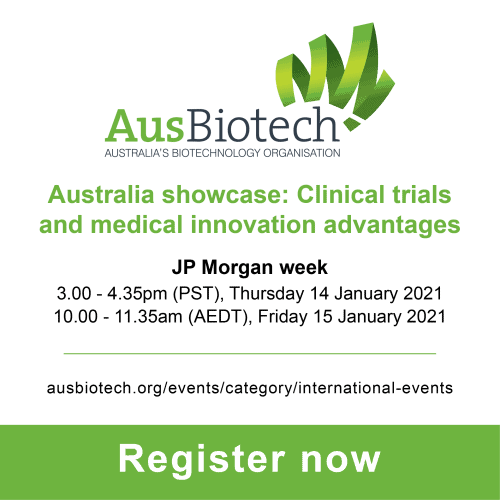 AusBiotech invites you to its virtual showcase highlighting Australia's clinical trial and medical innovation advantages, coinciding with the annual JP Morgan and Biotech Showcase week in January 2021. This virtual event will be hosted in Melbourne on Fri 15 Jan, 10-11.35am (AEDT).
Australia has been amongst the globe's lesser COVID-19-impacted countries, providing the opportunity to start and continue clinical trials and medical research through the pandemic. Through careful management of the pandemic, clinical trials are not only giving Australian patients access to new therapies, vaccines and medical devices, but also giving the country a comparative advantage as a destination for clinical trials from around the globe.
Working in Australia offers a compelling opportunity for clinical trials, with robust regulation, access to established and proven pathways of obtaining high quality clinical data recognised by US and European regulators, and other global institutions.
Bellberry CEO Kylie Sproston will be speaking at this event. Click HERE TO REGISTER