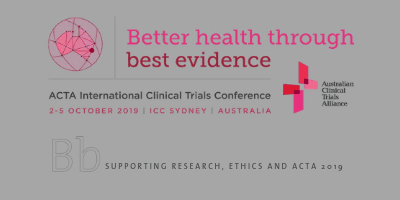 Bellberry is delighted to be both sponsoring and exhibiting at this years ACTA International Clinical Trials Conference, 2 – 5 October, Sydney.
The conference brings together Australian and international experts in the cutting-edge design and conduct of clinical trials and registry custodianship, healthcare funding, policy and regulation, health care service delivery, health information technology, health economics and patient advocacy.
The Conference theme is ACTA's reason for being – Better Health Through Best Evidence – providing a platform for national and international stakeholders to share global advances in the development of self-improving healthcare systems.
The program will address:
Revolutions in clinical trials
Data access and open access in trials
Embedding clinical trials in routine practice
Novel trial designs and conduct
Maximising the value of clinical registries
Interface with industry partners
Improving public awareness
The vital role of consumer involvement in clinical research
Bellberry is proud to be a part of this valuable event which is integral to the advancement of clinical trials research in Australia and internationally. We look forward to seeing you there!
Find out more and register on the conference website