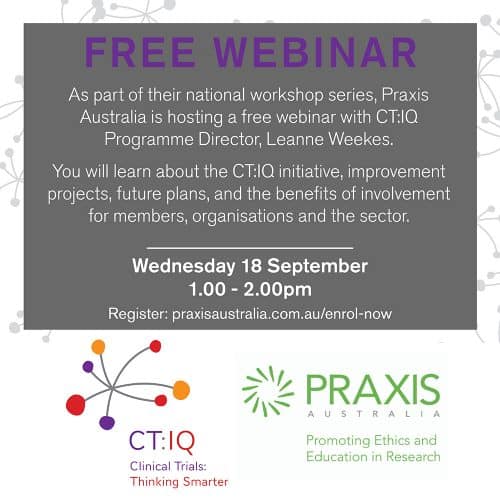 CT:IQ Webinar: Wednesday 18 September 2019, 13:00 – 14:00 (ACST)
CT:IQ is MTPConnect and member-funded Clinical Trials sector improvement initiative with government support from the TGA, PBAC, MSAC, NHMRC and the Office of Health & Medical Research within the Department of Health.
CT:IQ's mission is to develop and implement recommendations that will improve the impact, quality and efficiency of clinical trials, leading to more rapid, lower cost and higher quality evaluation of healthcare interventions in Australia – our mission is to get Australia Thinking Smarter about the conduct of clinical trials!
CT:IQ's vision is to act as a platform for all stakeholder voices to come together.  CT:IQ's membership is comprised of 40 diverse organisations with national and international representation from government, pharma, device organisations, CROs, academia, medical research institutes, phase 1 units, CTNs, advocacy groups and consumer representatives.  CT:IQ is the only initiative where government and clinical trial stakeholders in both investigator-led and industry trials sectors can come together to undertake meaningful sector improvement initiatives.  This will lead to a more meaningful integration of clinical trials into the Australian health care system, resulting in better healthcare and better outcomes for patients, participants and the community.
CT:IQ are conducing five projects in 2019 selected and prioritised against the needs of the sector by our Steering Committee members in the following areas:
Toolkit for involving Consumers;
eConsent;
Early Phase trials;
Recruitment;
Biomarker-directed therapies.
During this webinar CT:IQ Director Leanne Weekes, will provide updates on all five 2019 projects.
This interactive session will also be an opportunity to ask questions and find out more about CT:IQ and how to get involved.
The CT:IQ Steering Committee has a small number of remaining seats therefore your participation is a rare opportunity for your organisation to have a voice.
---
ClinTrial Refer Webinar: Tues 24 September, 11:00 – 12:00
Click here for further information on the ClinTrial Refer Webinar (scroll to the bottom of the page)